AHMEDABAD: Can payment of money be made by just making a missed call – the preferred way of communication for many Indians in the initial days of cellular phones — to save on money? When Mitesh Thakker, a native of Bhuj in Kutch, saw many struggling with digital payments methods in the wake of demonetization in 2016, he thought of empowering even those who did not possess a smartphone.
"Even as a growing population now pays through scanning QR codes or other cashless modes, there is still a significantly large chunk that is not included in the digital payment ecosystem. The reasons vary from poor internet connection to lack of smartphone-based apps to do it," says Thakker. Thus, technology developed by him – MissCallPay – requires the user only to give a missed call on a number to get a return call and give a PIN. The payment is made.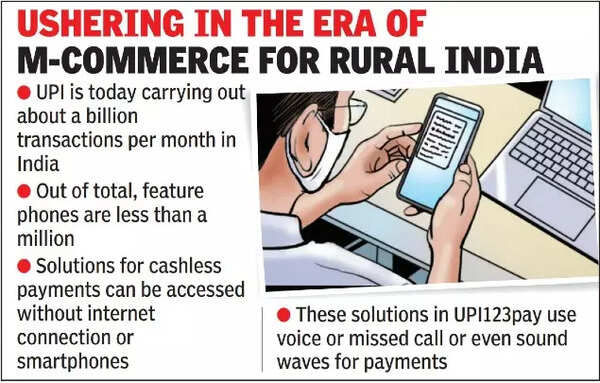 His idea was one of the three winners in a challenge by CIIE.CO, the incubator at IIM Ahmedabad (IIM-A), National Payments Corporation of India (NPCI) and Bill & Melinda Gates Foundation (BMGF) in 2019. The other two were Gupshup and ToneTag – both using offline sound-based systems (interactive voice response and proximity sound) to initiate and authenticate the payment details.
All three technologies have been adopted by the Reserve Bank of India (RBI) when it launched UPI123pay earlier this week for a major digital payment inclusion targeting rural India. CIIE.CO officials said that the three technologies are "building the next wave of financial penetration".
Priyanka Chopra, COO of CIIE.CO, said that the need for inclusive and easy-to-use payment solutions for users across all segments has become even more salient in today's environment. "We are very excited about the potential to enable digital payments for feature phone users at scale for the unserved that need it the most," she said.
Dr Pawan Bakhshi, India lead for financial services for the poor at BMGF, said that the winning technologies have the potential to provide secure, easy to use payment services to over 400-500 million people using feature phones in India. "The biggest fear for any new user is misuse of their details and fraud. Thus, any such system needs to be easy to use and as safe as possible," said Thakker.